Random Thought: "You cannot truly appreciate Dilbert until you read it in the original Klingon." >
Posted in
Life
on April 4th, 2015
Moving Day – a phrase that strikes fear and loathing into the hearts of most, with only those blithely possession-less folks able to resist the call to despair at the thought of picking up all your crap and lugging it somewhere else. When I moved to Las Vegas shortly after high School, it was no big deal – just two duffel bags and a box of books. Leaving Las Vegas 8 years later, however was an entirely different proposition involving a 14-foot box truck – and if I hadn't got rid of the TV, I would have needed a bigger truck.
15 years ago, I packed it all up for the 29th time and hauled it to my current digs. I was 29 years old. Some of the places I have lived had seen me for several years, while other had been mere temporary stays of a few months. None of the long stays exceeded 4 years prior to this last residence.
Now, however, this run must come to an end. The landlords have realized that we were getting away with exceedingly cheap rent considering what the market will bear, and decided to rectify that to the tune of an $800 per month increase that my budget simply will not bear. So, out come the boxes from the cardboard hoard and off to the dump we go to start seriously offloading 15 years' worth of accumulated crap to pare down to human-movable volumes of stuff.
Bleah.
Posted in
Life
on December 6th, 2014
For many years, I have been perfecting ways to compare computers to cars, since most of my clients know nothing about the magic box under their desk, but they usually know at least a little something about your average car – you change the oil, replace the tires, take it in for a tune-up, that sort of thing. Recently, a similar thought struck me about cell phones – specifically, smart phones – that compares rather well to certain brands of performance cars:
The iPhone is a Porsche 911
Think about it: back in 1963, Porsche unveiled the 911, and it has been in continuous production ever since, with only incremental changes. Tweak a little here, update the technology behind that thing over there, and roll it out onto the dealer lot with a minor incremental change in the type number. Porsche loves the 911 so much, that it can be argued rather well that in fact it is the only car they make, considering that the other models look more like they took a 911 through a funhouse and took pictures of the reflections in the funny mirrors than as car designs in their own right. (That's right, Panamera, I'm looking at you…)
Well, we have the same thing with the iPhone. Any changes to the iPhone in each generation have been merely incremental tweaks – a slight change to a curve here, a slightly updated processor there, just enough to make sure that the end-users don't think they are stagnating and not moving forward with the times. iOS compares rather straight across to the venerable rear-engine Boxer arrangement found in the 911 – which was air-cooled until 1998.
So, if the iPhone is a Porsche, then the other major brands can be equated to BMW, Audi, Mercedes and the like. While the iPhone sticks to that rear-engine Boxer, the other brands put the engine in front with Android, using a number of different engine configurations, body styles, performance packages and trim levels. Everything from zippy little two-seaters (your humble feature phones) up to massively overpowered station wagons that you can't fit into your garage pocket (Samsung Galaxy Note).
Now, don't get me wrong – the Porsche 911 and the iPhone it compares to are both capable machines – but sometimes, you have to wonder if maybe the designers have taken what was a good thing and dragged it out too long. While the other major players have been out there innovating and developing and taking risks with design, the iPhone has been playing the same song. With the release of the iPhone 6 and 6 Plus, it's really playing catch-up with the other guys.
Posted in
Politics
on July 27th, 2014
To all of you self-entitled pedestrians and bicyclists that assume the law doesn't apply to you: if it is OK for you to break the law, then it's OK for me to break the law. Remember that when you see me accelerating at you while you're running a red light.
Seriously now, let's look at this. If a car runs a red light, he's a madman, but if a bicycle runs a red, it's somehow supposed to be OK? If there is room for the bicycle to run the red, then arguably a car with faster acceleration can make it through as well. Maybe I should run those reds alongside you?
For all of you peds that shout "pedestrians have the right of way", that just means that if I hit you, I will get a ticket. It does not mean you have carte blanche to cross whenever you want. Yes, yes, I know Oregon has a rule that lets peds cross without a crosswalk, but that only applies if you can manage to be more than 150 feet from an intersection on a back road somewhere that doesn't have crosswalks. City blocks are 200 feet long. Here's some of the relevant City codes:
PORTLAND CITY CODE

16.70.200 Pedestrians.

16.70.210 Must Use Crosswalks.

No pedestrian may cross a street other than within a crosswalk if within 150 feet of a crosswalk

.

16.70.750 Penalty.

(Amended by ordinance nos 165987 and 176394, effective April 17, 2002.)

Violation of this Chapter is an infraction punishable by a fine not to exceed $150

.

(A) Except as provided below, violation of this Chapter is an infraction punishable by a fine not to exceed $150

.

(B) Violation of sections 16.20.470, 16.70.510 A,16.70.210, 16.70.220 and 16.10.060, is punishable by a fine of not more than $500, or by

imprisonment not exceeding 10 days or both

.
That's right, kids, crossing without a crosswalk is punishable by a fine of up to $500 and/or 10 days in jail. The only reason you've never seen anyone get a ticket from this is the fact that there just aren't enough cops to enforce it.
Some days I really miss my old Plymouth with the 400-inch engine. Power-braking that while revving the engine was a sure way to clear the crosswalk instantly. Nothing says "move" like a 3-ton car experiencing 6 inches of  torque roll.
Here's a great reference for pedestrian traffic laws in Oregon
Posted in
Geekery
on May 18th, 2014
So the last time the Boss got me a new work laptop, they let me buy the old one cheap and I took it home and set it up in the living room for general use. For the last few months, however, it has been getting slower and slower. 2 weeks ago, I cloned the hard drive over to a good spare, but that hasn't helped things any. Obviously, it's just a dying machine.
So, on to a replacement. I've sold enough HP gear over the last few years to build up a decent nest-egg in reward points, so I converted them into a gift card and went shopping. Since all I really needed the machine n the living room for was basic web activity, I figured I'd save some and went with a Chromebook 14.
Overall impression? Aside from some odd choices in the interface design, it does what it says on the tin. It's hard to remember that you can't do certain things, but otherwise it handily does what it's told.
As for those design choices, the first one that really grabs you is the keyboard keys – they're larger than standard, which means I keep finding myself hitting the paces between the keys and not typing anything. Which is doubly weird for me, since I don't touch-type, but even with staring at the keyboard, I'm not doing as well as normal.
Second is the choice of keys. They left out the standard PgUp/Dn Home/End keys, and instead of making the Function keys dual-purpose like many modern keyboards, these ones have been fully converted to the computer's special functions. The lack of a Delete key is singularly confusing.
The most confusing bit by far, however, was the really poorly-worded instructions for a right-click: the paperwork clearly says "Double-Tap for Right-click"; what they actually meant was "Click with two fingers to Right-click". Real helpful there, guys.
Still, so far, so good. Seems like just the thing if all you need is web access and light productivity.
Posted in
Life
on March 16th, 2014
Took the Daughter Unit and her Bestie out for archery at the Washington Park field this morning and found two unexpected things:
First, Washington Park has put in parking meters everywhere, and it now costs $1.60 an hour to park. Still way cheaper than going to one of the indoor ranges, so it's not a terrible hardship, just an unexpected cost.
Second: the filed gets ridiculously muddy in winter. I had no idea, as it was never this bad during the rainy parts of last summer, but apparently over the winter the place becomes nigh-unusable. There needs to be some ditch work done along the edges to allow the water table to sink lower.
So, have my skills atrophied any over the winter? Not noticeably. Of course, with that batch of arrows, it's difficult to tell. I'll need to do some additional repair work though, as one of my arrowheads decided to permanently reside inside a hay bale. Au revoir, my arrowhead.
Posted in
Geekery
,
Work
on February 2nd, 2014
So there you are, you've just updated the last of your servers to Server 2008, 2008R2 or even 2012, and you've gotten all of your client PCs up to at least Windows 7. Feels pretty good, eh?
Unfortunately, your users are hounding you because their tried-and-true Network Browser doesn't show any of the servers. They can see all of the other PCs on-net, but the servers just don't show up. You can of course type in the hostname manually, but what user is ever going to remember how to do that? Why does this simple thing fail?
Well, it turns out that there is a specific service that tells other systems what shared resources are available on a particular system – and for some completely unfathomable, dumb-as-fuq reason, Microsoft doesn't enable this service by default on servers. The service in question is Function Discovery Resource Publication (FDResPub), and all you need to do is set this service to auto and start it – and within seconds you can refresh that Network Browser window and see results.
The mind, it boggles.
Here's the even dumber thing about this: Windows 7 and server 2008 share a whole ton of code, right? Well, Win7 includes this service – and it is set to automatic by default! 
Now, I can understand not necessarily wanting this enabled on all servers – there's no need to show the servers that don't have shares on them, like the SQL server.   If this was some option that would pop up sometime during the server configuration stages, like a check box offering to "Advertise this server in Network Browser" (the list of options in the File Services Role would seem an ideal spot), this would make sense – but nope.
I'm guessing the planning for this move went something like this: "well, on PCs, we have to set things up by default for the Dumbest Common Denominator, which is going to be the workgroup user – you know, the shlubs that can barely check their email and have no idea how a computer actually works, so they would never be able to make a PC advertise to the Browser. We'll enable file sharing by default and set the FDResPub service to auto. But on servers, we'll leave it off, because surely a server admin will be smart enough to figure out a service we never talk about anywhere by digging up a single reference in an obscure forum post. Yeah, that sounds about right!"
Gee. Thanks, guys.
Posted in
Life
on October 27th, 2013
Took about ten days in a row off from work for sanity – just coolin' my heels around the house and whatnot, relax, let my guard down… and get sick about halfway through.
Yay.
Posted in
Life
on August 2nd, 2013
So the Wife hands me a magazine this evening with a full-page picture spread of the "Best Camping Gear", and I'm flipping through the list and trying not to hit the floor with my jaw. (There's cat hair down there, tastes awful.)
Item the First: a "Restored" hatchet. Some yokel was digging out his barn apparently and found a hatchet head, so he wanders over to the bench grinder, cleans it up and shoves a new handle into it. "Not bad," he says to hisself, "I should sell this. Mebbe even put up a page on them thar In-tar-webs…"
The website, I must admit, is a Hipster trap par excellance. It's barely there – just a picture of one of their 'restored' (read: rusted to shit and re-ground then polished with WD-40) axes stuck in a stump with a "coming Soon" legend in the corner. So, what do they want for the hatchet? $165. ONE HUNDRED SIXTY-FIVE FUCKING DOLLARS. A buddy of mine has one looks just like it, he got it for $10 at Freddy's, works like a charm. The things I could get for $165… like:
Item the Second: a three-legged folding stool with a leather seat. No design on the leather, just dyed a pleasant tan with three chunks of broomstick and a carrying strap. Guess how much. Yep – another $165. I thought it was ludicrous, because I've seen kits to make the same idea for less than $30, so I went looking for one. Didn't find a kit, but I did find another stool for sale – only this time, they REALLY loved it, because they want TWO HUNDRED SEVENTY-FIVE FUCKING DOLLARS. $2!7!5!
If I could make and sell 5 of those a week I'd be set. Hell, I could sell the cheaper one 7 times a week and do just fine indeed.
If you need me, I'll be in the garage.
Posted in
Proof!
on July 21st, 2013
Back in the early 90's when I lived in 'Vegas, a few of us were hanging out in Cafe Copioh drinking coffee and playing cards when we met a girl.
She was a bit shy, but had been watching us play cards for a bout 20 minutes when we dealt her in. Due to her long and tightly-curled Henna-tinted hair, she eventually picked up the name Fraggle, (referenced as lady D in this post) which fit her very well once we got her laughing. Once we got her laughing, the shyness went away and we had a good deal of fun. Everyone did, really – you could hear her laughing from down the block :)
Over the next year, she became a regular at our table and our various apartment gatherings, and she eventually hooked up with the Barbarian and we all moved into The Townhouse. She was a perfect example of why race-car drivers shouldn't teach normal people how to drive. She had the skills to drive at speed – on a track. On the street, she was terrifying to behold. Just ask anyone on the sidewalk in her vicinity.
Life moved along. The EMC and I got hitched, and not long after The Fraggle married the Barbarian, bought a house, had kids. later she divorced the Barbarian because he developed a severe case of idiocy. A few years later she got together with and married one of our other crew members from the Cafe days. That guy turned out to be another sufferer of the idiocy gene, and was she arranging to divorce him. That was last month.
Unfortunately, the Universe had other plans for her. The Fraggle had a rather screwed-up metabolism that brought her no end of grief through the years, and earlier this week she succumbed to a heart attack.
The world will never again hear her flip her head open and laugh so loud the folks next door wonder what the hell was so damn funny.
Posted in
Life
on June 30th, 2013
When I was a child, somewhere around 3rd grade, my avid-outdoors-man stepfather managed to get something right and brought me home a child's archery set – a lightweight fiberglass bow, a handful of arrows and a hay bale. I got pretty good at it, but it was yet another hobby that I fell out of practice in and it went by the wayside.
Some time ago, the leader of our SCA household expressed a desire for the whole household to get more involved in the SCA events that we went to, and archery was brought up as something several of us could pick up. When my daughter mentioned that she would like to do an archery camp of some sort this summer break, it seemed like a perfect opportunity for me to get back into that game as well.
After several trips to various on-line and physical archery shops, we've acquired the requisite gear. For my daughter, I went with a modern take-down wood recurve bow. The junior leagues aren't that picky about what they shoot (so long as it isn't a compound bow), so I figured it might be better for her to get a solid start with semi-modern gear and then move into the period stuff. We shot several before she decided upon a draw weight that felt right to her, and then she topped it off with a dozen purple-fletched arrows.
For myself, I found a good deal on woodbows.com and got myself a nice linen-backed Red Oak longbow, and spent a couple hours putting together the shooting kit I need. Longbows shoot off the knuckle, so I need protection for the left hand and the right fingers, plus an arm guard. The quiver will come later.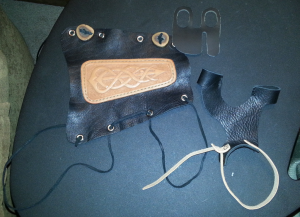 Having put all that together, I took it out today and spent a couple hours flinging arrows theoretically at a target; reality was more of "shoot at the wall and try hopelessly to hit the target". English longbows, it seems take quite a lot of tuning in and getting used to. The string, for instance, will stretch a lot – I had to twist it up shorter twice during the session, and that has probably got the knock point a bit off by this point. Which doesn't matter quite so much, because I'll be pulling that off to "serve" the string. ("Serving" is the process of wrapping the bowstring in a different type of string at the point where you pull it.)
Still, I think I did make some progress today – or at least, I really hope I did, considering the chunk of skin I scraped off my finger and the three arrows that broke in the process. (The tips decided to stay in the target when the shafts came free.)
Stay tuned for further developments.